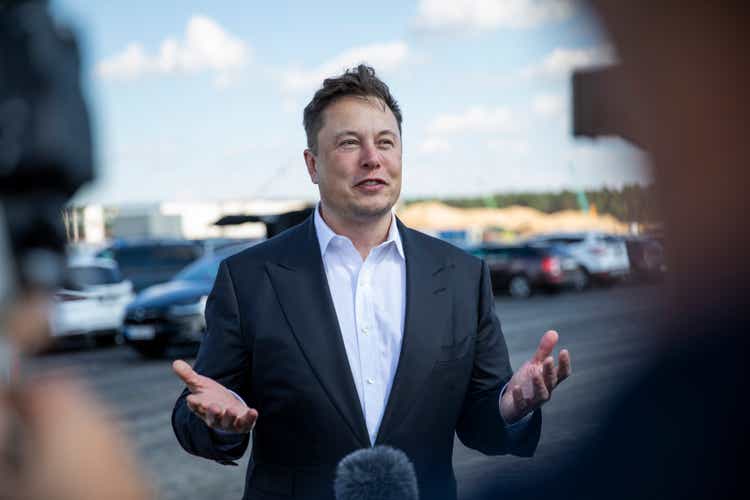 Chinese technology stocks such as Alibaba (NYSE:BABA), Baidu (NASDAQ:BIDU) and Tencent Holdings (OTCPK:TCEHY) went into the red Monday as Elon Musk gave Beijing officials a piece of his mind about how he thinks technology will affect the future.
Musk submitted a column to the official publication of the Cyberspace Administration of China in which the Tesla (TSLA) boss said, among other things, that he hoped that "more like-minded Chinese partners" would get behind such practices as "exploring clean energy , artificial intelligence, human-machine collaboration and space exploration" to improve society in the years ahead.
"I want to do everything we can to maximize the use of technology to help achieve a better future for humanity," Musk said in his column. "To that end, any area that contributes to a sustainable future is worthy of our investment."
Musk addressed his column to his "Chinese friends," and touched on his business operations such as Neuralink and efforts to expand space exploration to Mars.
What makes Musk's column noteworthy is that the Cyberspace Administration of China is the organization responsible for overseeing the data security for some of the country's biggest tech companies such as Alibaba (BABA) and Tencent (OTCPK:TCEHY). Much of China's tech sector has found itself under the thumb of Beijing regulators who have spent close to two years putting pressure on leading companies in an effort to exert more control over data management and the private information of consumers.
As trading progressed Monday, Alibaba (BABA) shares were off by 2%, Tencent (OTCPK:TCEHY) slipped by 1%, Baidu (BIDU) fell by 3%, NetEase (NTES) edged down by 0.6% and Weibo (NASDAQ:WB) shares gave up 2%.
Last week, Alibaba (BABA), Tencent (OTCPK:TCEHY) and other Chinese tech companies submitted details of their product algorithms to the Cyberspace Administration.