The iPhone 15 Pro Max brings several noteworthy enhancements. One of them is the use of stronger yet lightweight titanium design, making it a durable flagship choice. With a 6.7-inch screen made more compact thanks to thinner bezels, the phone offers an exceptional visual experience without feeling overly large in hand.
One of the most impressive features of the iPhone 15 Pro Max is its enhanced zoom capabilities. With a larger 5x zoom, users can capture distant images with excellent quality. Furthermore, the intelligent Action button adds convenience to the phone's operation, making it more intuitive.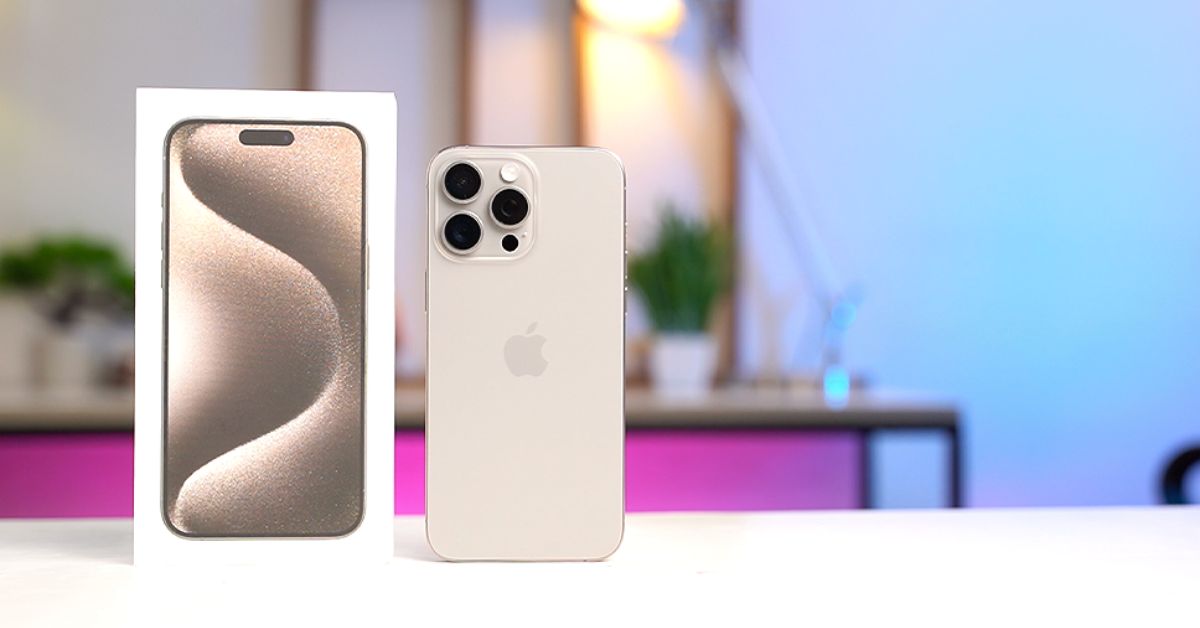 Powered by the highly potent A17 Pro chip, the iPhone 15 Pro Max delivers remarkably impressive performance. With the ability to deliver console-quality gaming experiences, the phone is an excellent choice for gamers. The long-lasting battery, lasting up to 14 hours, allows users to use the device throughout the day without worrying about running out of power.
However, there are some aspects to consider. Its starting price of $1,199 places it as one of the higher-priced options on the market. Additionally, while the adoption of USB-C charging is a positive development, the charging speed remains relatively slow.
So, is the iPhone 15 Pro Max the best phone? Overall, it offers many impressive features, especially for those seeking high performance and powerful camera capabilities. However, the higher price and slow charging may be a consideration for some users. The final decision still depends on individual preferences and needs.
Release Date and Price
The iPhone 15 Pro Max is scheduled to be released on September 22nd. With an initial price of $1,199, it is indeed more expensive compared to its predecessor, the iPhone 14 Pro Max, with a $100 difference. In this regard, the iPhone 15 Pro Max has become one of the most expensive iPhones ever produced by Apple.
However, it's worth noting that at this price point, you get 256GB of internal storage, which is double the standard storage capacity offered on the previous flagship phones. Of course, for those in need of more storage capacity, there are options to upgrade. You can choose the 512GB variant priced at $1,399 or even the incredibly spacious 1TB option for $1,599.
Specifications of iPhone 15 Pro Max
– Price: $1,199
– Display: 6.7-inch OLED
– Refresh Rate: Adaptive 120Hz
– CPU: A17 Pro
– Storage: 256GB, 512GB, 1TB
– Rear Cameras: 48MP main/12MP ultrawide/12MP telephoto with 5x zoom
– Front Camera: 12MP
– Battery: 4,422mAh [reported]
– Battery Life (Hours: Minutes): 14:02
– Charging Port: USB-C
– Dimensions: 6.29 x 3.02 x 0.32 inches
– Weight: 7.8 ounces
– Colors: Black, White, Blue, Gray
iPhone 15 Pro Max Design
The iPhone 15 Pro Max replaces the stainless steel sides of the previous Pro model with a titanium design, and this change has a significant impact. Why? Because the grade 5 titanium used by Apple is not only stronger but also lighter. In fact, it's the same type of titanium used on the Mars Rover, adding a unique scientific nuance to the Natural Titanium color. Additionally, there are also Blue Titanium, Silver Titanium, and Black Titanium variants available.
One immediate difference is in the weight of the phone. The iPhone 15 Pro Max weighs only 7.8 ounces, compared to the 8.5 ounces of the iPhone 14 Pro Max. This difference is palpable when holding it in hand or slipping it into your pocket. Furthermore, the iPhone 15 Pro Max is more compact with dimensions of 6.29 x 3.02 x 0.32 inches, compared to the iPhone 14 Pro Max's dimensions of 6.33 x 3.05 x 0.31 inches. Despite being slightly thicker, this phone is easier to use with one hand, making it the first large-screen iPhone that provides such comfort.
Additionally, the contoured design of the iPhone 15 Pro Max makes it feel more comfortable. Its edges are rounded and less sharp compared to the previous Pro Max model, ensuring it won't dig into your hand. At the bottom, you'll find the new USB-C port, which is a welcome change as it allows you to charge the iPhone, iPad, and MacBook with the same cable.
Action Button
The Action button on the iPhone 15 Pro Max is one of the features that draws attention but can also be a source of frustration. This button replaces the ring/silent switch on the device, and the experience can vary. For instance, if you set it to Silent Mode, the button will mute calls with a long press.
However, in the settings app, you have full control over this Action button. You can configure it to launch various functions, such as the camera, voice recorder, flashlight, translation, and more. Moreover, you have the flexibility to choose specific actions within certain apps, like taking a selfie directly from the Camera app.
For those seeking more options, the Action button integrates with the Shortcuts app. This allows you to set it to launch various apps with a long press or create custom shortcuts to perform tasks like sending a message to a specific contact, which can be very handy.
However, one drawback of the Action button is that it only supports one function at a time. So, if you've configured the button to open the camera, you won't be able to use it to mute a call simultaneously. This is something to consider when utilizing this feature.
USB-C
The iPhone 15 Pro Max finally adopts USB-C charging, and this is a change that was long overdue. After more than a decade, Apple has decided to replace the Lightning port, although it seems this decision was also influenced by regulations imposed by the European Union.
One significant advantage of the USB-C adoption is that you no longer need to carry an additional cable just to charge your iPhone. Since many everyday devices have shifted to the USB-C standard, this is certainly a welcome step.
Furthermore, with the use of the USB-C port, you can now charge various other Apple devices, including the newly updated AirPods Pro with a USB-C charging case. Additionally, the use of USB 3 on the iPhone 15 Pro Max allows for fast photo and video transfers to a Mac or external drive, with speeds reaching up to 10Gbps. While this may not be the latest USB 3.2 standard, it's still a highly useful feature for users relying on fast data transfers.
iPhone Display
Meanwhile, changes to the iPhone 15 Pro Max display are quite limited, with the exception of thinner bezels surrounding the 6.7-inch OLED panel. Nevertheless, Apple ensures that you still get a peak brightness of up to 1,600 nits, and even 2,000 nits when using the phone outdoors.
The ProMotion technology display continues to offer a 120Hz refresh rate, delivering smooth scrolling and animations. The Always-On display also allows you to monitor notifications, time, and other information without having to unlock your iPhone, providing additional convenience for daily use.
Camera
The significant improvements in the iPhone 15 Pro Max camera have made it capable of catching up in the zoom department and arguably surpassing most top camera phones in overall quality. One of the most noticeable changes is the use of a larger main sensor, which boasts a 48MP resolution and now defaults to producing 24MP photos. Additionally, you have the option to use the HEIF 48MP format to save space or choose ProRAW for more creative control.
Moreover, the main camera offers three different shooting options: 24mm, 28mm, and 25mm, which you can easily switch between by tapping the 1x button. Another advantage is the iPhone 15 Pro Max's ability to detect depth information, so you no longer need to use portrait mode to capture high-quality portraits of subjects, be it humans or pets. In fact, you're also given the freedom to change the focus point of your shot after it's taken, adding a higher level of creativity to your image processing.
Video
The iPhone 15 Pro Max comes with several significant enhancements in video capabilities. The improved cinematic mode now supports digital zoom up to 3x, which can add more dramatic dimensions to your recordings. For professionals, the most appreciated feature is the ability to export recordings in ProRes format at up to 4K with 60 frames per second through the USB-C port.
Results from testing indicate that the iPhone 15 Pro Max delivers stunning video quality. The 5x zoom brings you closer to the action compared to previous generations. For example, watching a 4K clip of a cruise ship on the Hudson River will leave you in awe. When zooming in, you can even clearly see the water ripples reflecting on the windows of the cruise ship, while seagulls sway gracefully in the foreground.
Performance
The potential of the iPhone 15 Pro Max as a flagship gaming phone is worth considering, and this is thanks to the adoption of Apple's latest chip, the A17 Pro. This latest silicon chip offers a significant boost in performance, with a CPU that's 10% faster and machine learning performance that's twice as high. However, the true highlight lies in the entirely new 6-core GPU, which is the best in its class.
With this power, you can truly enjoy console-quality gaming experiences, complete with ray tracing technology for the most realistic lighting effects ever seen on a phone. For example, when you're watching gameplay from Diablo Immortal, you'll be captivated by stunning graphics and reflections that approach reality.
Battery Life and Charging
The iPhone 15 Pro Max delivers an incredible improvement in battery life, surpassing the impressive performance of the iPhone 14 Pro Max. In our intensive battery testing, which included continuous web browsing over 5G, the iPhone 15 Pro Max lasted for 14 hours and 2 minutes. In contrast, the previous model could only last for 13 hours and 39 minutes.
However, the changes in the iPhone 15 Pro Max go beyond incremental improvements. The phone offers a stronger and lighter design thanks to the use of titanium, making a significant difference in everyday use. Additionally, the smart replacement for the ring switch with the Action button provides a very useful additional feature.
Pros:
+ Strong and lightweight design thanks to titanium
+ 5x zoom for long-distance photography
+ Action button adds extra flexibility in use
+ Best-in-class performance with the A17 Pro chip
+ Exceptional battery life
Cons:
– $100 higher starting price compared to the previous model
– Slower charging compared to some other phones
– Limitation of the Action button to perform only one function at a time